So here's my Bouchercon wrap up, looking at the Geppi Museum signing and Saturday afternoon/evening.
Friday's Geppi Museum signing wasn't well attended, but who cares. It's a terrific place and I recommend people go. Brian Azzarello and I were in a large room with hundreds of comics behind glass. Probably just a small representation of the entire collection, but there was the first Superman comic, the first Batman comic and it went on from there. I saw famous covers from comics I'd only read about. Amazing.
And speaking of cool: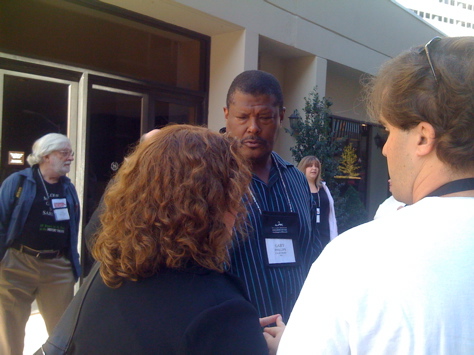 I'd never met him before, but Gary Phillips picked up a copy of my book sight unseen. That's him above, in the center talking with fans.
But I met Brian for the first time, as well as his beautiful wife Jill Thompson. I'm a small-press guy and they treated me like a seasoned pro. That's pretty cool.
Cut to Saturday afternoon, and I'm getting ready for the Batman panel. I'm bummed out that Greg Rucka wasn't able to make it, but DC editor Will Dennis did a nice job stepping in. Victor Gischler was there (and o hoot on the beer panel afterward) and McKenna Jordan did a nice job of moderating.
Directly afterward was the beer panel, and as I said before, it was my downfall. Started drinking at 4 pm, hit a party or two afterward and hung out in the bar as late as I could. Met a few new friends: Lori Armstrong, who held her own on the beer panel against the always hilarious JA Konrath; Brett Battles, who cheered on the Tampa Bay Rays loudly; and Chris Kuzneski, who patiently put up with us amusing drinkers.
So would I do it again? Absolutely. I had a terrific time, saw old friends and met new ones (hi RJ!), introduced myself to some new fans (I hope) and learned a lot about the craft.
OK, let's finish it off with some photos: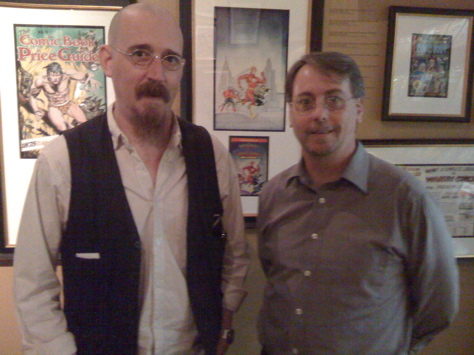 Here's me and Brian Azzarello at Geppi's Museum. (Brian is the cool one)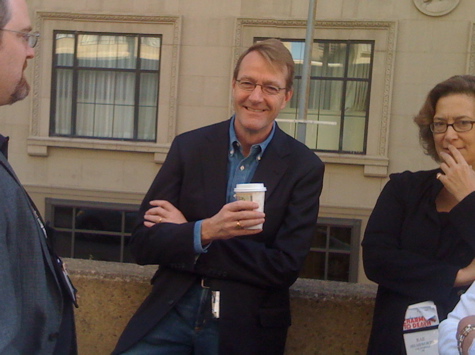 Here's Lee Child hanging outside on Sunday.